https://www.signupgenius.com/go/70A0844ADA62FA5FF2-after
The After Prom committee is looking for volunteers to work in some upcoming concession stands. The money earned from working these stands will be used to help fund After Prom activities. It can be parents, grandparents, or students who sign up. ALL help is much appreciated!!
Don't forget! Jostens will be back tomorrow during HS lunch to take orders for class rings and graduation items that have not been placed online and to answer any ordering questions.


The JH Football game on Sept. 27th will now be played at Sigourney (change of location) starting at 4:15pm - 2 full games will be played with 8th grade playing first

Friday Night Football @ Davis Co - 7pm - Live stream coverage provided by EBF.tv with Pat Powers & Mike Lane providing the coverage. Parking lots highlighted in yellow are available around the field in Bloomfield.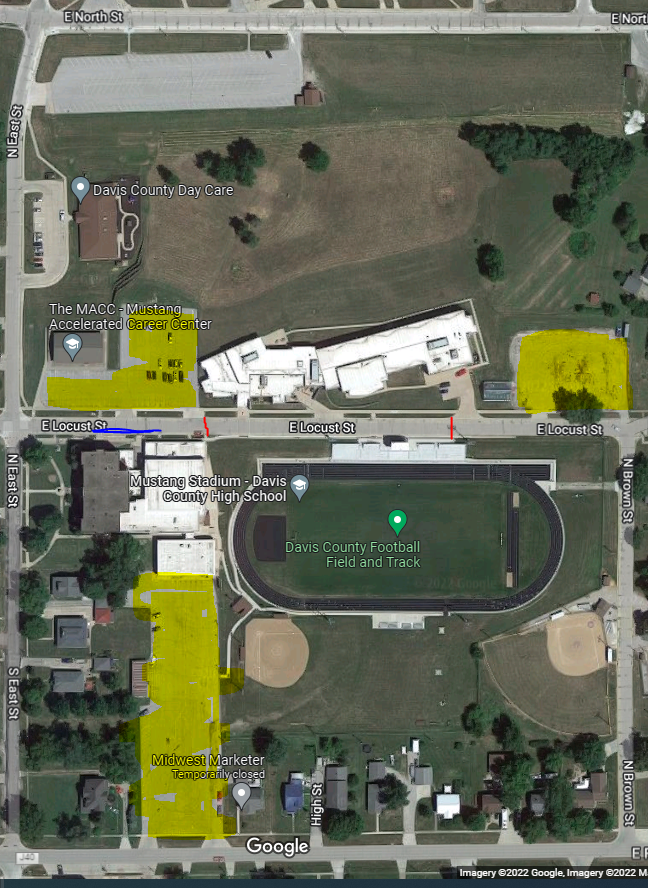 Eddyville Elementary students lets "Roll Out the Red Carpet" for Homecoming 2022! Dress up days for next week will be as follows: 'Merica Monday Tropical Tuesday Wacky Wednesday Redneck Thursday Friday Show your Rocket Pride
Check out the Golden Circle College Fair, Sunday, September 25, 2022 - 12:30-3PM at Prairie Meadows Conference & Event Center in Altoona, Iowa. There are many different options to see regardless of the student's career path; colleges and universities, military options, apprenticeships and building trades. For more information visit:
https://www.icansucceed.org/golden-circle-college-and-career-fair

JH Volleyball Games will be live streamed tonight starting at 4:15pm - click on the "watch home games live" link from the rocketsk12.org website

EBF Cross Country Invitational Tonight - Schedule: 4:28pm National Anthem 4:30pm JH Girls & Boys 5:00pm Recognition of EBF Senior Athletes 5:10 pm JV/Varsity Girls 5:40 pm JV/Varsity Boys 6:10 pm Awards

EBF Apparel is now available 24/7/365 that can be personalized and shipped directly to you - current sales are 25% off through the next 30 days All proceeds support EBF activities - Contact HS office if you have any questions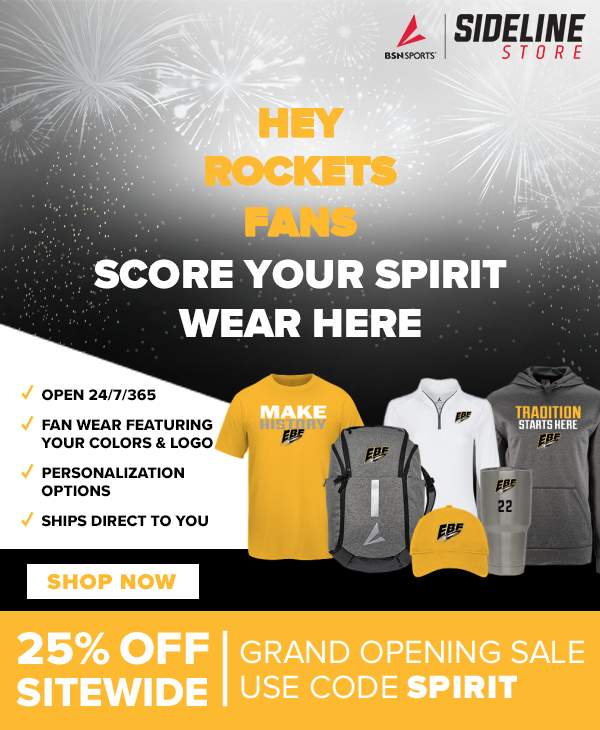 The cross country meet scheduled for this afternoon will be postponed to Thursday, Sept. 22 - 4:30pm

JH VB @ Davis County - Tuesday, Sept. 20th - both grade levels will start games at 4:15pm & will be played at the Mutchler Comm. Center in Bloomfield - seating is limited and fans are encouraged to bring lawn chairs
Reminder- NO School tomorrow 9/19/22.

The Student Parking Lot @ the HS will be closed on Sunday, Sept. 18th from 12-5pm for emergency training exercises. Make sure that all vehicles are moved from this location.
Great news! This year we will be recognizing our EBF Elementary weekly SOAR winners at home athletic contests! The family of the award winner will be admitted for free and the SOAR award winner will receive a $10 concession stand voucher. Tonight we will recognize each recipient at the end of the 1st Quarter - we would like to have as many present as possible, but all of the names through this Friday will be announced. Please check in by the ticket stand to let us know you are there and to receive your concession stand voucher! Go Rockets!!

Friday Night Football vs. Mid-Prairie - 7pm - We encourage fans to arrive early as we will recognize members of the military prior to the start of the game. Members of military are asked to report to the field during the singing of the national anthem (approx. 6:55pm).

JH Football Format @ Centerville Today - The first game will be a regulation game 8 min quarters w/ Game 2 starting at approx. 5:45. Game 2 will be a modified game with 6 min quarters, no special teams, with teams starting each possession at the 40 yd line.

JH VB @ Clarke - Thursday - Format will be played as follows: 4:15pm - 8th Grade A 4:40pm - 8th Grade B 5:00pm - 8th Grade C Warm-up - 12 minutes 5:15pm - 7th Grade A 5:40pm - 7th Grade B 6:00pm - 7th Grade C
Reminder- Tomorrow (Wed) is picture day at the Jr/Sr High.