Meet the Rockets - Bingo Night - Saturday @ HS starting at 5pm Soup Supper - 5pm Meet the Rockets - 6pm Bingo Night - 7pm

Updates - JH Girls Basketball @ Clarke - Game format has changed to the following - 4:15pm 8th Grade will play one game followed by 7th grade - there will not be any B games today

Friday Night - Girls Basketball vs. Lynnville-Sully - update to game schedule as follows: Varsity only starting at 6:30pm - No JV game

Senior photos for the yearbook are due to Mr. Hallgren by Wed. Dec 21st. They can be sent to him on a thumb drive or email, please make sure they are in JPEG or PNG format for best use. If you are unable to meet this deadline or have questions, please email him at
tom.hallgren@rocketsk12.org

Reminder to parents/ guardians: Please reach out to Nurse Erin if medications are necessary to be given at school. We must have signed parental consent and all medications must be in a current, labeled bottle from the pharmacy.

Reminder - Football Banquet Potluck Dinner - Tuesday Night @ HS Cafeteria - 6pm Seniors - Side Dishes Juniors - Main Dish Freshman/Sophomores - Desserts

Reminder- NO SCHOOL on Monday, November 7th. Teacher Professional Development day.

7th-12th Grade Fall Vocal Concert will be held this evening at the HS starting at 7pm. Admission to the event will be $2 adults & $1 students - activity passes are accepted.



State VB reminder- Concessions are cashless, so don't forget to take a card.

The volleyball team is currently on their way to the state tournament - we expect a large turnout and appreciate all of the kind words & best wishes given to the volleyball team over the last few days.  If you plan to attend the game at Xtream Arena, please visit 
https://www.ighsau.org/news/2022-state-volleyball-tournament-central/
Audio/LiveStream InfoAudio - Those that are unable to make it to Coralville today are encouraged to log on to EBF.tv for pregame coverage (Pat Powers/Mike Lane) starting at 3:30pm or to follow GoSCCtv (DeWayne Cook) on facebook/app.  Livestream provided by Iowa Girls High School Athletic Union starting at 4pm -
https://www.watchighsau.com/

If you are going to Xtreme Arena for State Volleyball tomorrow a couple things to keep in mind- they have a CLEAR bag policy and the concessions are cashless, so you must bring a card to pay for concession items. NO signs, NO masks, NO noisemakers.

Reminder- There will be a 1pm dismissal on Tuesday, Nov. 1st for State Volleyball. GOOD LUCK LADIES!

The EBF district will dismiss at 1 pm Tuesday, November 1 for the state volleyball tournament. The first game is Tuesday, November 1 at 4 pm at the Xtreme Arena in Coralville. As the team advances through the tournament the school schedule will be continue to be 1 pm early dismissals. The tournament days are Tuesday, Wednesday, and Thursday. The team must win to advance to the next day. This allows our community, students, and staff to support the team. A message will be sent to the community, students, and staff when the district returns to the normal dismissal schedule. Congratulations to our players, coaches, and parents of the volleyball team!!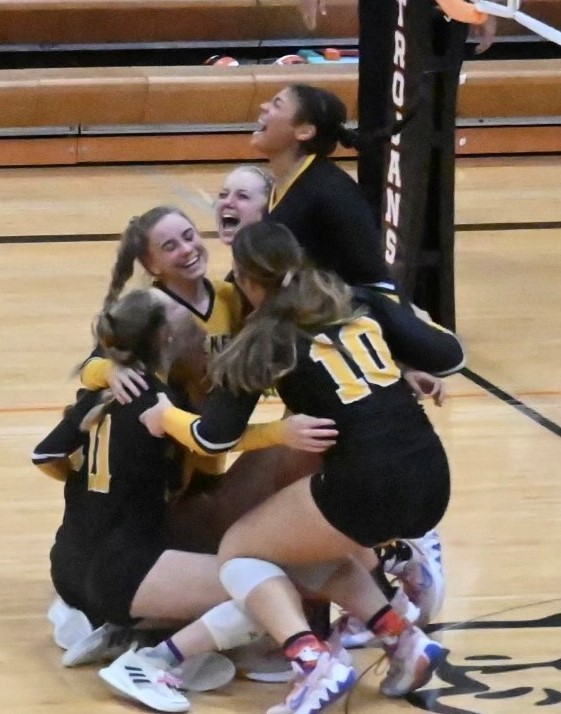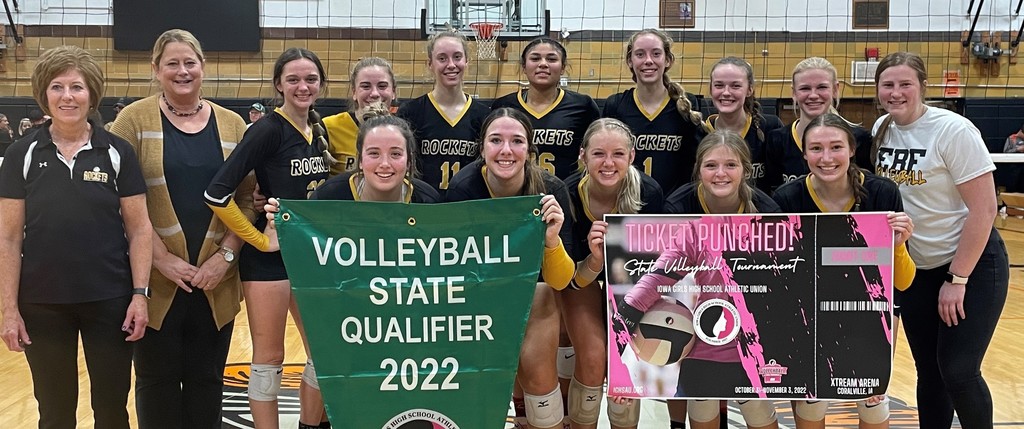 Congratulations to the Rocket Volleyball team on advancing on to the state volleyball tournament. The Rockets defeated West Burlington last night and will play next Tuesday, Nov. 1st at Xtreme Arena in Coralville vs. Wapsie Valley - 4pm. **All t-shirts must be purchased by 1:30pm today with pick up taking place on Monday night at the HS
https://ebfvbstate2022.itemorder.com/shop/category/151166/
**More info. will be coming as details become available

Sam Seddon will be recognized at the HS with a send-off to state cross country at 12:50pm today. Congratulations Sam and best of luck tomorrow at state - Sam will participate in the Class 2A state meet Friday at 2:45pm. Coverage will be provided by GoSCCtv. Tickets can be purchased online at
https://www.gobound.com/ia/ighsau/girlscrosscountry/2022-23/tickets

Reminder that JH Girls Basketball, JH Girls & Boys Wrestling, & HS Girls Wrestling will start practicing on Monday, October 31st - 3:30-5:30pm. If you have any questions about the athletic registration for this winter, please contact Curt Johnston at
curt.johnston@rocketsk12.org
or the HS office - 641-969-4288.